I'm not sure how long I sat on the rock perch enjoying the peaceful waters of Bonne Bay and the picturesque settlement of Norris Point.  The weathered sentinel across from me seemed to read my very thoughts.
"Don't mind me, ma'am, but you're probably wanting to know a little of the history of Norris Point."
"Why, yes," I stammered in amazement.
"Well, I was here long before any living soul ever set foot down there.  It was named after Neddy Norris, who came to the area with his wife and children around 1789.  I was sure disappointed that those good folks didn't stay.
Back then, I was in my prime, yes, Sir, and literally clapped my long boughs together with joy when William and Charlotte Humber from Dorset, England, settled here in 1833!  Pretty brave folks they were.  No other families joined them for twenty-five long years.  Imagine that!  How I loved to see the blue smoke curl up from the chimney of their log cabin.  Kind of took the lonesomeness off somehow.
In the spring of 1858, a fishing vessel was caught in a storm, and its occupants sought shelter in the area, and soon built their log cabins at Norris Point.  Things started to hum around here!
Say, did anyone inform you that Norris Point was actually a Tidy Town winner in 2005 for its clean and well maintained properties and streets?"
Before I could tell the sentinel that I had read that in a tourist brochure somewhere, he hurried on.
"I'm getting ahead of my story.  I'm sure you'll believe me, though, that it's hard for folks to live anywhere else once they've been to Norris Point."
I nodded in agreement.
"Well, other folks came from England, Ireland and Scotland, mainly because of the fall herring fishery and lobster catch.  Like the others, they found Bonne Bay to be a dandy place from which to fish the coastal waters of Labrador. Fur trapping also gave them a bit  more income.
A trading post had been built here around 1800 by Joseph Bird, an English merchant. Later, fur trading became pretty important at the post. The local families would exchange fish and fur for supplies, foodstuffs and clothing.  Why, Norris Point's trading post became so popular that labourers, servants and apprentices were brought over from southwestern England during the summer to support it.  Mind you, their accents were so thick that I could hardly understand a word they said!
Anyway, in the early 1900s, a ferry service was set up, and the population in 1921 had risen to 372.  Around that time, residents also began fishing for cod and salmon.  Oh, these waters around here are rich, let me tell you!
By 2001, the population of Norris Point reached almost 800.
By the way, you mustn't forget to stop at Neddies Harbour Inn whenever you get a hankering for some top-notch dining.  You know, I'm glad to see the inn people had the good sense to preserve the name of Norris Point's original discoverers, even if they haven't spelled it exactly right.
Oh dear. I've been talking your ear off."
"Not at all.  I can't thank you enough for sharing all that you've seen over the years.
"Our whole conversation came about with me guessing what you were wondering about, now didn't it?  Bet you can't guess what I've been wondering about," declared the handsome old sentinel.
"No, not in a hundred years," I replied.
"It's none of my business, but what are you going to call this painting when you get it finished?"
"Springtime in Gros Morne," I replied.
"I like that title, yes, I do." .
"Thank you!  It will look more springish when I get the bake apples painted in around the rock, and along the edge of the path."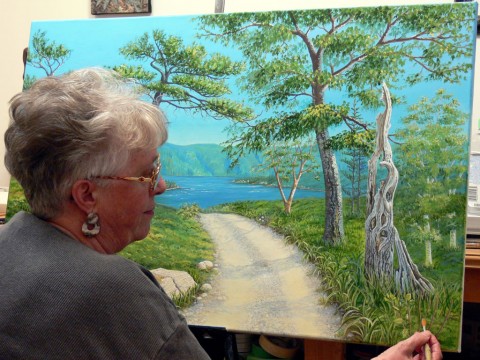 "More power to ye," said the sentinel, with a bit of a creak.  "You know, I've never had my portrait painted before.  It makes me right proud that after more than 200 years, someone thinks I'm still beautiful . . . holes and cracks and all!"