Preparing batches of Ontario strawberries for freezer jam, I stemmed them while sitting on the lawn swing.  One can't stay indoors when there's so much going on around Cedar Hollow.  I might miss something!
After Lady Wren popped into the Swiss Chalet, she treated herself to a brief stroll on the Walnut Boardwalk, stretching her legs.  You've heard the adage, Whistle while you work.  Well, Lady Wren's is Sing while you walk!  She did a splendid rendition of "Oh What A Beautiful Morning!"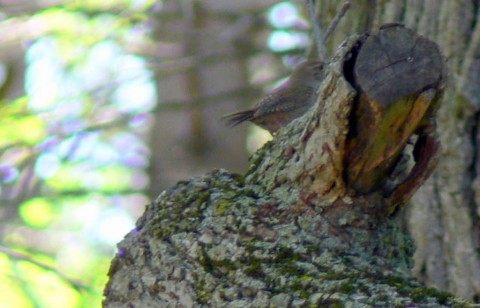 Going to the lower garden shed for something, I got spooked out of my wits!  Unlatching the doors, something wet brushed against my fingers and landed kerplop on the patio!  Yikes!  The tree frog!  This little tyke, for some unknown reason, likes to hide in between the two doors!  He's a flat frog, all right, but is he that flat?  He played this trick on us last year, and the year before that . . . . and now I get the willies whenever I have to put  something in the  shed!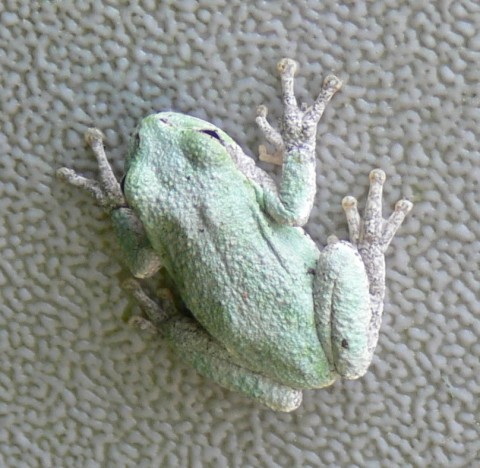 Below is a picture taken maybe eight years ago of his great, great, great, great, great grandfather, hanging onto a stalk of aloe vera near the pond.  Tree frogs make the most beautiful calls, much different than the ordinary frog.  When this little one gets old enough to "sing," I'll try to record him for you.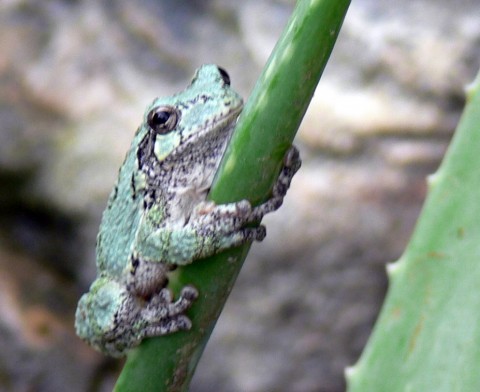 After supper, Lloyd cleaned out the chickadees' nursery in Cedar Shake.  What a shock!  All we saw were twigs.  No soft blanket anywhere!  I guess bits of fine grass are good enough for baby chickadees, but I didn't see much of that either.  Now, don't you go knitting up blankees for chickadees, 'cause they won't use them!  You'll be just wasting your time.  Sorry about that.