John came over to help us dig out the purple smoke bush which had winter-killed.  Whenever he sat on the lawn swing, something bugged him.  A winter ice storm had broken a branch on the black walnut tree, and it dangled menacingly above the path that runs behind our fence.  John climbed a ladder into the tree and stood on a big limb.  However, from this sturdy perch in the walnut tree, he was unable to sever the vertical danger with the branch-lopper gizmo.  Not to be beat, he lassoed the offending branch, descended to the ground, and pulled on the rope for all he was worth until it snapped off!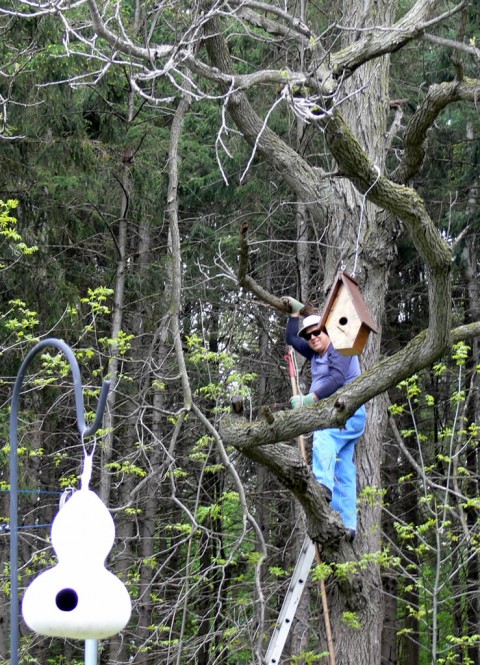 Today was one of the loveliest days this spring!  John took a break from working on our website to join us on the back deck for some lemon-iced tea.  A recently fledged chickadee alighted on top of the shepherd's crook which holds the hummingbird feeder.  Hanging onto the metal perch for dear life, glancing back and forth, soon his mother brought some fast food on the wing. Gulp! Looking like his feet would slip any moment, he clung on awkwardly while we could scarcely take our eyes off of him, sure he would lose his grip.  Zoom!  Back he flew into his Cedar Shake home!  This big old world was just too much for him.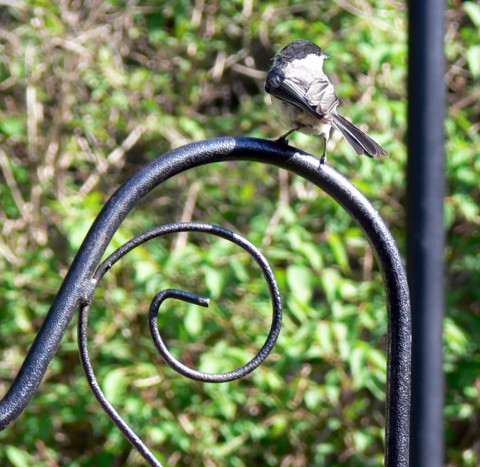 Had Princess Hummer been watching all of this?
What's so special about this curved perch anyway?  Better check it out.  I might be missing something, she said.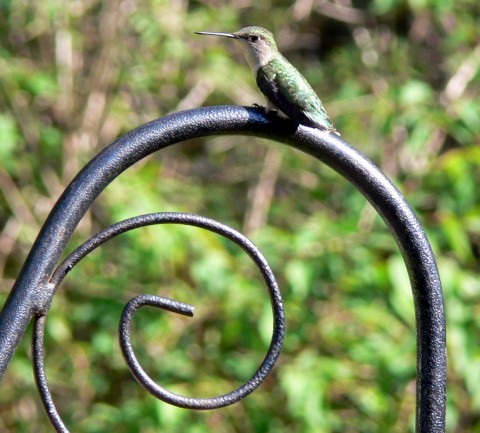 Meanwhile, Lady Wren's curiosity got the best of her.  She just had to check out Swiss Chalet on Black Walnut Lane which John put on the market a few hours earlier.  Standing on the tiny perch, you could almost hear her musing:  Would this offer more privacy than Château de la Gourde?  I'm sure it would be cooler when the leaves come out.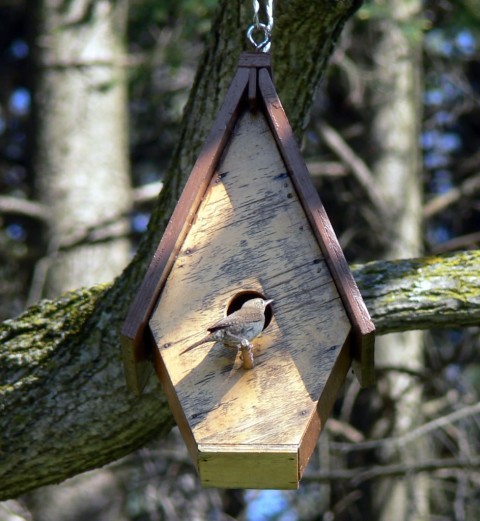 Wanting to let the zephyr breezes in , Lloyd and his 57-day old left knee carefully mounted a sturdy kitchen ladder.   (His old right knee went along, too.)  From this aluminum perch, using a drill, he removed the screws from the frame holding the heavy glass storm door in place, which John lifted down and stored away.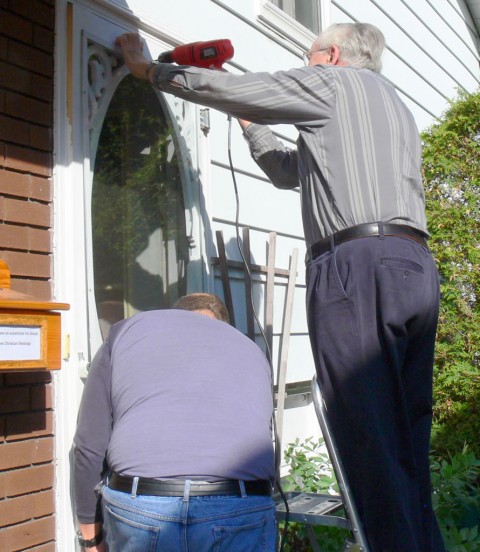 Walnut perches, both large and tiny, wrought iron perch round and smooth, aluminum four-legged perch . . .  each stayed firmly and dependably in place while trod upon by young and old – human and winged – enabling them to carry out their tasks on this delightful day of blue sky and cotton-batting clouds!