Opening the shed doors carefully the second day after the tree frog had committed a Break and Enter, I was aghast!  He had donned a brand new jacket!  Well, you'll have to forgive me for thinking that he was wearing pyjamas the first time I met him.  After all, this is where Jumpy the Tree Frog sleeps at Cedar Hollow . . . between the shed doors.  But no longer was he just a plain, pale  green tree frog.  He was now attired in a fashionable dinner jacket featuring the latest charcoal-coloured pattern.  Fetching the camera, I guess I got too close for comfort, and he JUMPED!!  Where was he???  Ah, at the bottom of the garbage can, sprawled out on a soft plastic bag!   Checking on him a few times, I worried needlessly, as his suction-pad toes had enabled him to get up and out.  Where he went to, I have no idea.
This morning, gingerly but slowly opening the doors to the shed again, I spied him.  He evidently has had enough of the black camera coming his way, and immediately jumped out of sight!  Carefully I scanned the ceiling and doors, having that eerie feeling that I would freak out if he plopped down  on my head!
If you back up a few blogs, you will see the handsome jacket his ancestor wore.  It's tradition!
Occasionally, mourning doves come to the front yard, hoping to find some discarded sunflower seeds.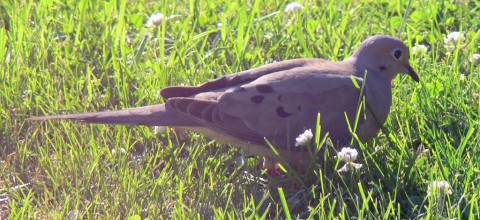 You will remember . . . . on its second mission from the ark . . . that it was a dove – some four millenniums ago – that returned to Noah in the evening with an olive leaf in its beak. 
The mourning dove wasn't a carrier pigeon, but she delivered a green email . . . telling Noah that the waters which covered the whole earth had now receded.  That wasn't junk email, no, indeed.  It was EXCITING good news!!!  Very soon afterward,  Noah and his family and ALL OF THE ANIMALS whose lives were preserved in the ark were able to walk outside in the cleansed earth!
Some people find the mourning dove's song sad.  I don't.  Growing up on the farm, I often wakened to the soft cooing of mourning doves high up in the spruce trees that lined the laneway.
Two days after Lloyd cleaned out Cedar Shake on Black Pole Lane, Lord Wren indignantly stuffed twigs into its front door again.  No, Sir, other birds were not welcome in his territory, and he jolly well let them know!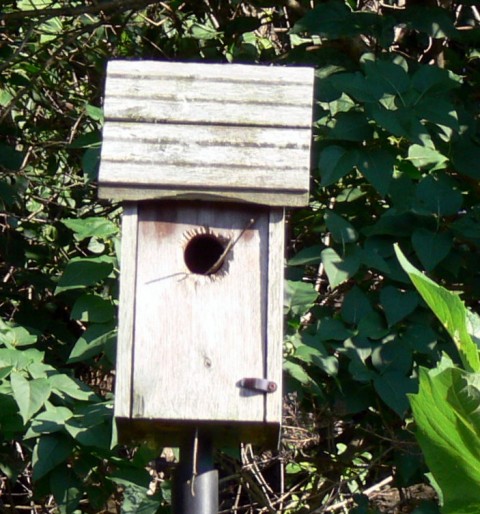 By the pond,  Mr. McD spied something on top of the boy's fishing pole. From the droop of his  gauze wings, it looks like he just needed a rest on this muggy afternoon, don't you think?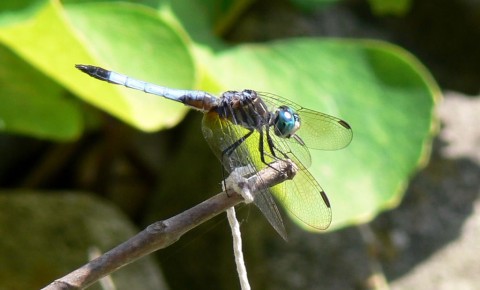 With more frequent visits from Lord and Lady Wren, I'd say the activity is definitely picking up around Swiss Chalet.  I'm straining my eyes, trying to see if they are carrying anything in their beaks.  The appetites of young wrens definitely make their parents a gardener's best friend!  More on their menu next time.