The old spinster, Ms. Aspen Tree, shoved what would have been the middle pine tree right off the canvas!
Swipe.  Dab-dab.  Dab-dab.  It's gone, just like that!  Oh my.  When Ms. Aspen comes along, tapping that old cane of hers, you don't argue.  No, Sir.
But she wasn't through with me yet.
"These hills have more than pine trees on them," she croaked.  "It's only fittin' that I should represent the worthy aspens of Gros Morne, even if I am bow-legged."
"All right.  All right," I said.  "You've got a point."
"You bet I've got a point," she continued.  "Why don't you leave the boat ride for another day?  Can't you see that folks are all loaded down with their fancy cameras? There's no prettier place around these parts than at Norris Point.  Folks ought to see it!  They really should!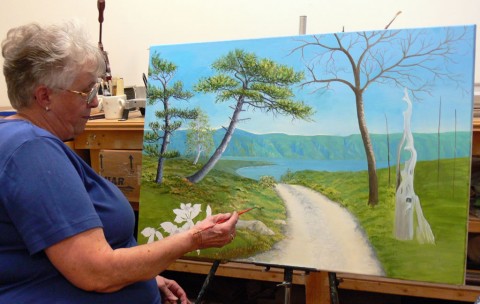 She squinted her eyes, looked me up and down, with one hand on her hip, and asked, "Now, tell me.  How come you didn't think of that, Mrs. McDonald?"