"Why, I do declare!" cried the old sentinel, as he surveyed with admiration the patch of bake apple blossoms (or cloud apples) that burst into bloom right across from him.
"They may be short-stemmed beauties now, but once their stamens turn into bumpy, orange berries, the bed and breakfast hostesses will be trotting down this path to pick them!"
The Guardian of the Path spoke up.  "They take such pride in serving their guests bake apple jam for their homemade breads and waffles.  To hear them talk, you would think this was the only place on the face of the earth where they grow."
"Oh, I know," said Ms. Aspen.  "We wouldn't want to deflate those good ladies for all the tea in China, but the truth is, bake apples grow in England, Scotland, the Nordic countries, Europe, southeast Asia, northern Russia, parts of Germany, Alaska, northern Minnesota, New Hampshire and Maine."  She was almost out of breath, rhyming off the names of all the countries where bake apples are found.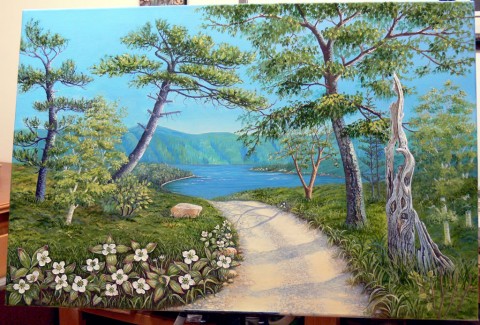 "Our B&B hostesses have every right to be proud of the bake apples.  I'll vouch for that," said the old sentinel.  "Why, they're so rich in Vitamin C that they can protect a body against scurvy.  Some brew a tea from the leaves to help cure infections of the urinary tract."
"And some make wine from the bake apples," added Ms. Aspen, "and some make a special syrup that they serve warm over ice cream!"
I was thoroughly impressed by this time, and put down my brush.
"May I ask you something?  When my husband and I were here a few years ago, we were trying to cram in as much sightseeing as possible, clicking pictures of this and that, and hurrying from here to there.  I'm ashamed to admit it, but I never stopped to pick a bake apple blossom!  Tell me, are their blossoms fragrant?"
For once, none of the trees had an answer.  Not one.  Perhaps you can help me out, as I am very curious about this.  Do send me an email.