Once upon a time, I did a watercolour of the climbing rose blooming by our side door – Sir Wilfrid Laurier.  The story was blogged previously about how a lady in Ottawa had moved this same type of rose bush to another part of her garden, but it did not survive.  She had received the rose for a birthday gift, and dearly loved its classic shape, and its long-stemmed blooms.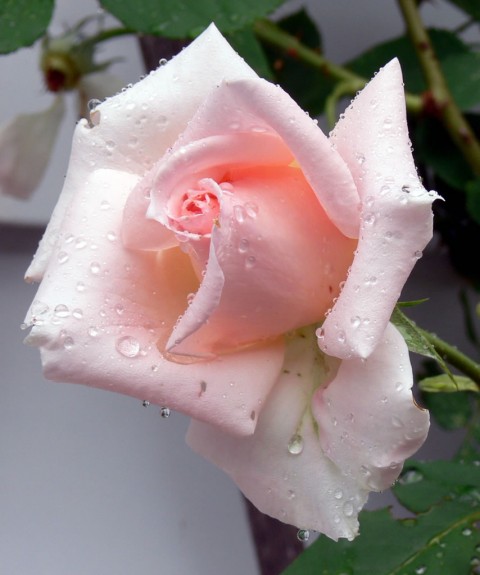 Terri, for that is her name, had been trying unsuccessfully to find another Sir Wilfrid Laurier rose for about ten years.  When she stumbled upon my painting on the Internet, she emailed me.  The result was that I sent her several cuttings in the mail.  I explained how my husband's mother successfully started new roses from cuttings, putting the end of the stem in the soil, and sheltering the rest of it beneath a glass jar.
This month, Terri emailed us that she and her husband and niece would be returning from a vacation in West Virginia, and could accept our previous invitation to come by and see us and Sir Wilfrid Laurier on their way home.
In the meantime, unbeknownst to me, something wondrous began to happen by our back door.  Sir Wilfrid Laurier must have sensed that Terri was coming . . . and set quietly to work.  Lo and behold, he managed to produce a baby not half a foot away!
However, by the time Terri arrived on July 12th, there wasn't a single bloom on Sir Wilfrid Laurier.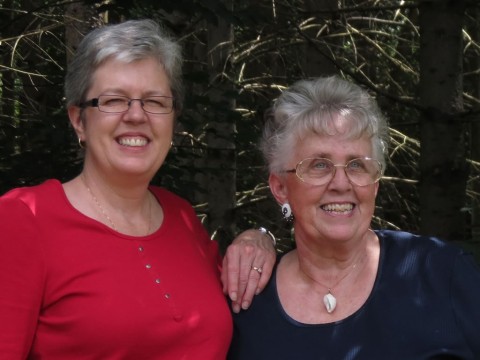 Sir Wilfrid Laurier had absolutely outdone himself this spring, and I photographed him daily, and emailed several photos to Terri.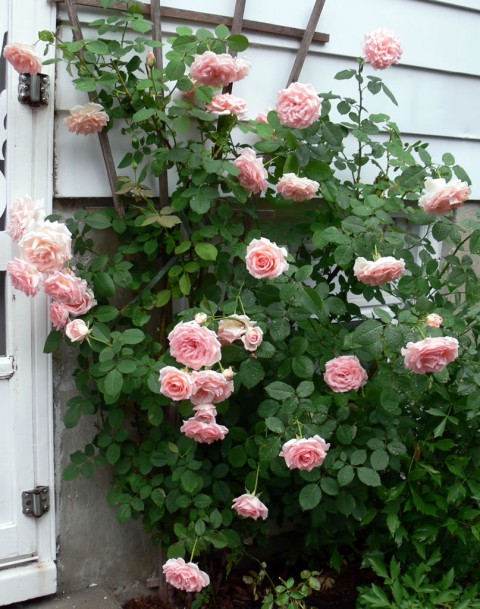 But now he was resting.  All that could be seen on the healthy climber were promises of another round of roses – fascinating little crimson shoots.
Baby Laurier had been carefully dug out a few weeks earlier and placed in his own 'play pen' (pot).  Mind you, he was just a baby with only two small legs, and a few of his leaves dropped off like baby teeth!  However, I'm eager to hear how he likes his new 'bed' in Ottawa.  I know he will get all the pampering a baby rose could possibly want.