Saturday afternoon, October 3rd, was set aside for readying Diesel and Shorty for the journey to their owners in Utah.  Not quite three weeks after his right knee replacement, Lloyd's walker steadied him as he stood to spray four light coats of ultra-violet protection over the canvas. When the last coat was dry, John and I taped a protective sheet of paper over the painting's surface.  I could see the stallions through the paper, and felt my first pangs of parting with the beloved horses that I had been striving to bring to life with light and dark pigments for the past seven months.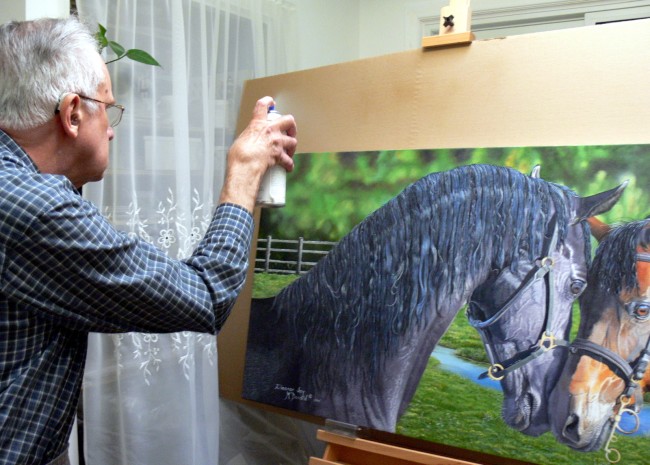 Yesterday, a family visiting from church carried the crate up from the basement rec room for us.  Lloyd built it last spring before his knee surgery was postponed to the fall.  After John and I got the long wooden box onto the dining table, we placed the canvas inside the inner cardboard box, and secured its lid with cord.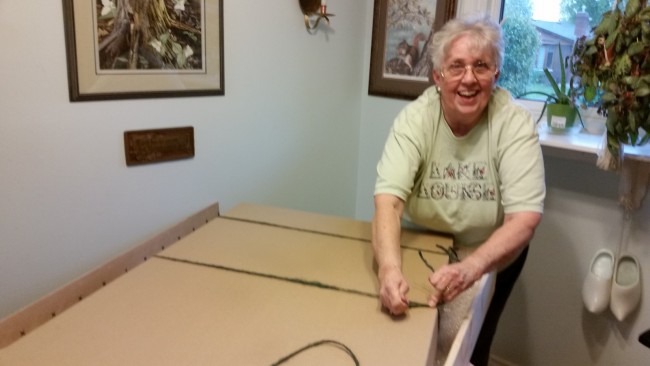 Lloyd had prepared sheets of bubble wrap to swaddle the cardboard box in and cushion it during shipment. 

"This is how you do it, John," coached Lloyd, setting the drill's ratchet before he started screwing the top down on the crate with drywall screws.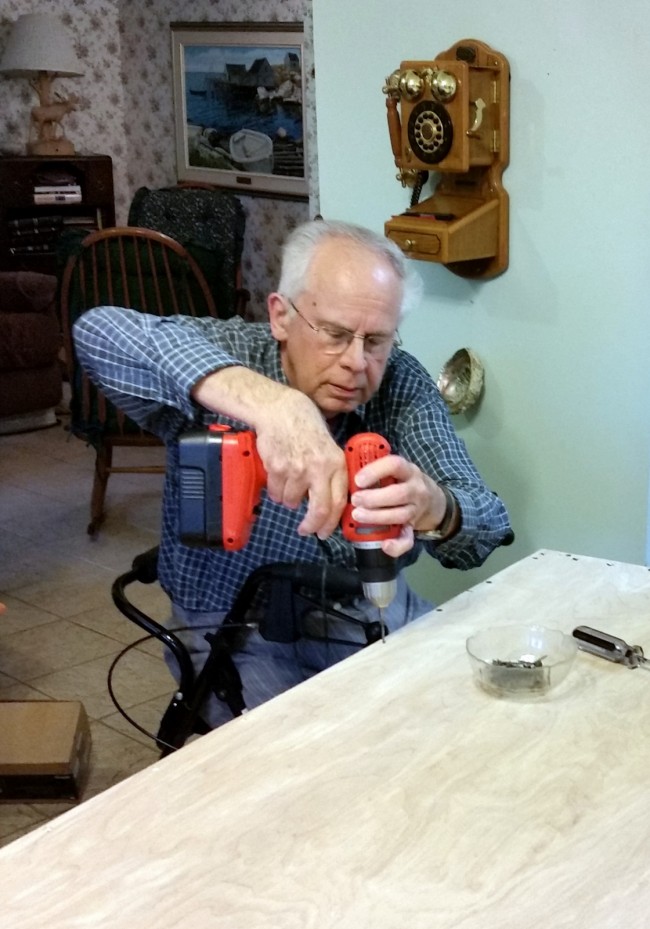 Our enabler and webmaster, John, puts in the last screw!  He made sure that none of the screw tops stuck above the surface where they would catch on things.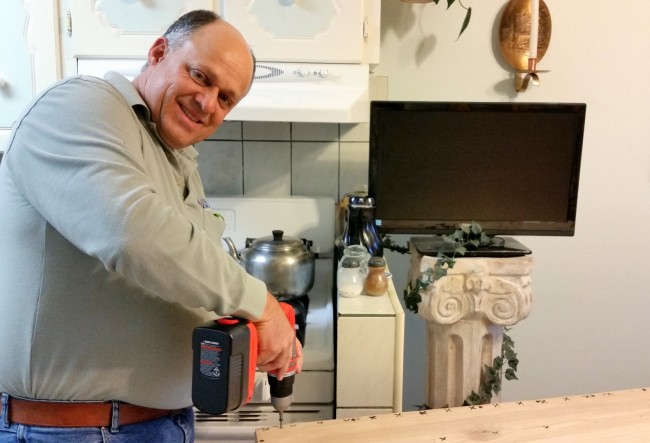 The crate weighing 48.4 lb. stands on its end, waiting for pickup on Tuesday afternoon by UPS.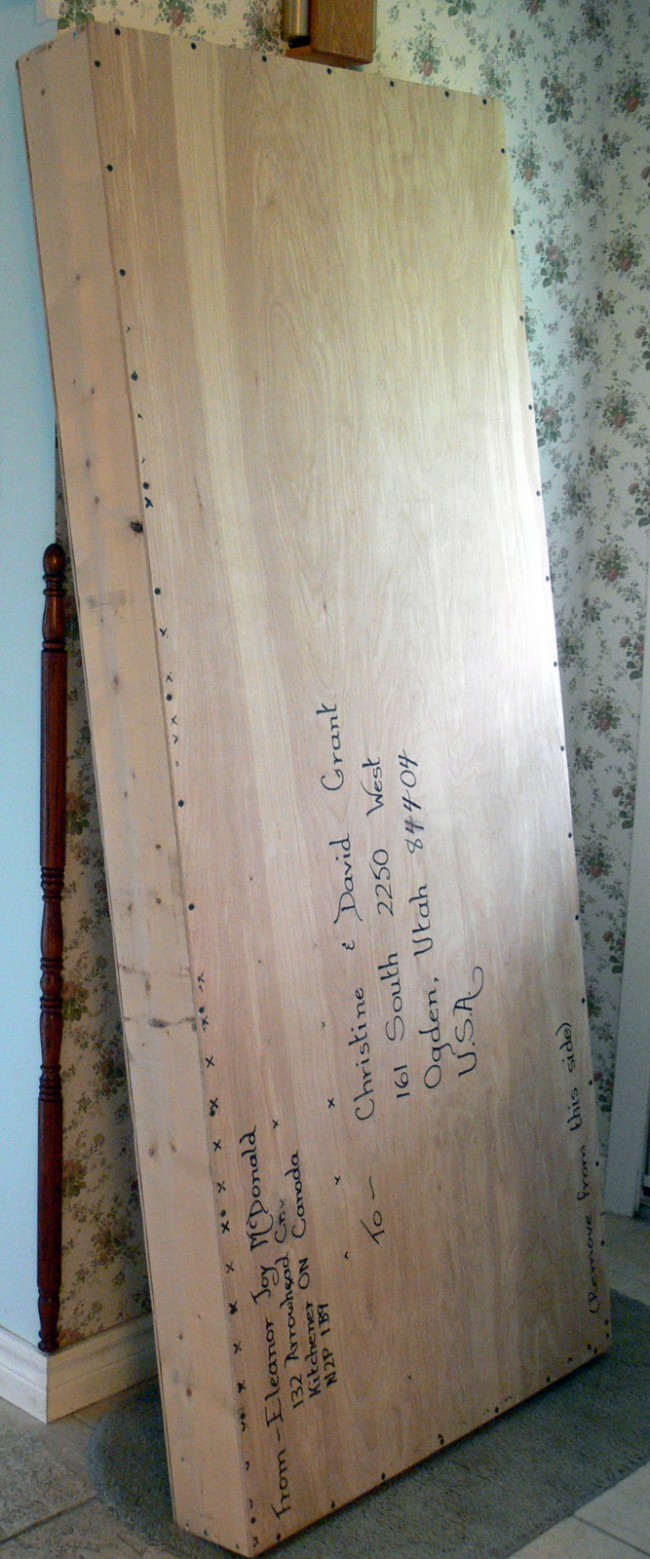 A previous visitor from church calculated the weight for us by holding the canvas and standing on the scales, and then standing on the scales by himself . . .  teasing us that we just wanted to find out how much he weighed!  He then sat the crate on the scales and determined the total weight of the canvas and crate, essential information to have as we contacted courier companies for shipping rates.
I put my back out trying to get a slipper onto Lloyd's swollen foot when he came home from the hospital, so neither of us were into a weight-lifting mode.  Although we can't lift heavy objects right now, there is something we can exercise . . . and that is giving thanks: thanksgiving for our son's web-mastering skills that enabled Christine Grant to enlarge my painting of Secretariat, which is why she contacted me about painting stallions for her; thanksgiving that this lady possessed huge reserves of trust to commission a painting from thousands of miles away; thanksgiving for the honest (to be truthful, brave) critiquing from both my husband and son; and thanksgiving to my Heavenly Father for enabling me to complete the work before Lloyd's mid-September surgery.
Diesel and Shorty should arrive in Utah around the time of our Canadian Thanksgiving, and be installed by the contractor above the library's stone fireplace in the Grant's new home before the American Thanksgiving!