We were seeing double, double wrens, that is! 
Lord Wren was waiting on Swiss Chalet's front porch with a juicy tidbit for the young ones.  Well, maybe it was crunchy.  I'm not sure.  Lady Wren began to exit from the birdhouse, which sent him flying off to the left as she flew off to the right, all at the same time, as though it was choreographed!  Somewhat rattled, he was back in no time, popping into the nursery to deliver his goodies.  That will teach him to stop saying, "Hurry up" all the time.
 Patience is a virtue. 
Possess it if you can. 
Often found in women. 
Seldom found in man.   (I couldn't resist.)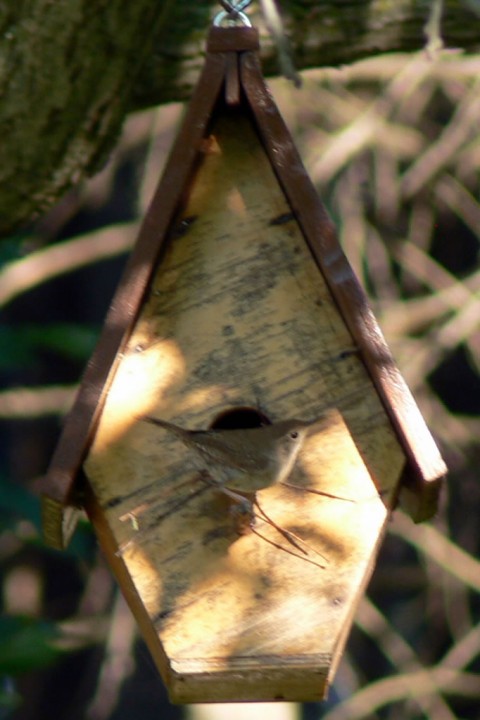 Do you have plants without names?  It took a bit of searching on the Internet, but I believe this is Prairie Sunset False Sunflower.   It was obtained at a plant exchange a few years ago. I transplanted two of its offspring to the side fence this spring.  They had popped up of their own accord.  Once they reach their height, they make good use of their amazing stature (these are 8'2″  tall) by blooming for a long time, brightening the whole garden with their sunny flowers.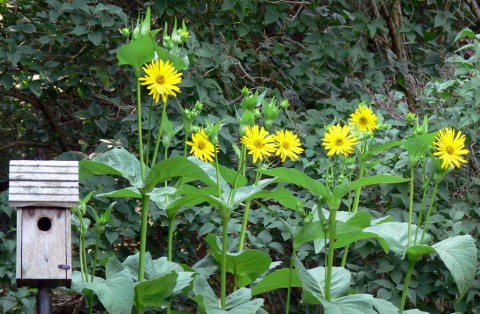 Their sturdy stems are perfectly square in shape, not round. Their large leaves form an attractive dimple, surrounding the stem.  Sometimes the dimple becomes a miniature pond after a rain.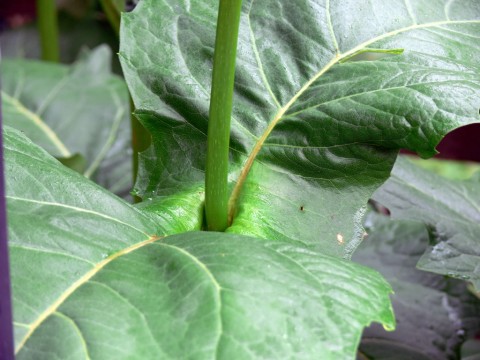 Humidity came and went today, as did the sun and rain. 
"I can't get up the steps," John complained yesterday as he headed to the forsythia to trim it.  Well, yes, he could, but the prickly yellow barberry was certainly hogging a good part of the steps.  It was time to trim it back this morning.  Its thanks was to plant a short barb in my little finger, even though I was armed with garden gloves.  
One of the cucumbers was trying to copy Jack in the Beanstalk!  It had grabbed onto the wire trellis covering the downspout and began its heavenward climb.  Not wanting to miss out on any of its cucs, I gently tugged its fingers off . . . and made it do an about turn, securing it to a bush with some Velcro in a lower position.  There.  Now I won't have to drag a step ladder out to harvest its crisp produce!
The cucumbers were actually living dangerously.  Mr. McD attached a green, plastic thingamajig to the end of the downspout.  When it rains, it rolls out, right over the cucumbers and onto the lawn!  And why did I plant them there?  Because it is one of the sunniest spots in our back yard!  Never mind.  I found a wonderful wire plant stake in the shed.  It had a fork on one end to push it into the ground with, and a round 2" loop at its  top end, some 12" above.  The very thing!  I gently threaded the ends of three cucumber vines through the loop, well above the slithering roll-out thing.  It was as though one of the vines said, "Hold on, girls.  We can do it!" and snagged the bush close by with its eerie, long tendril. 
Are there eyes in those spooky tendrils?  How do they know where there is something to grab hold of?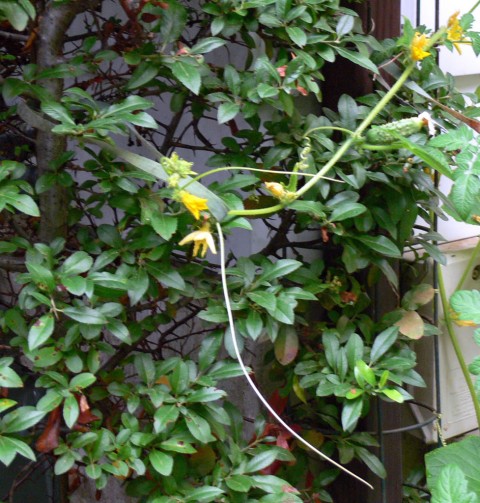 I must admit that I'm fond of a crunchy cucumber sandwich with mayonnaise slathered on the bread and a dash of black pepper added!  However, it always surprises me when I read about fancy teas in some formal garden setting . . . and they serve cucumber sandwiches – not expensive sockeye salmon or time-consuming egg salad sandwiches!  That was actually my experience at an afternoon tea in the sprawling gardens of Woodside a few summers ago, the boyhood home of Canada's longest serving prime minister, William Lyon McKenzie King.