Holding the canvas against the window for light, you can see the outline of the two stallions I will be painting.  Over eight coats of Gesso were applied to the canvas and sanded in between in order to obtain a perfectly smooth surface that will allow fine detail.  (The frame and support bars at back of canvas show through because of the backlighting.)

The next step is tracing the earlier sketch of the stallions onto the smooth surface,  ready to paint . . . ready to bring the majestic horses to life!
Below is a photo of something I have never seen before—a red squirrel out in the snow!  I guess the poor chap has been housebound like the rest of us during what has been the coldest February in 135 years!  Hope he was able to forage enough to get his tummy full this afternoon.  His tail and coat were certainly not in the best of shape.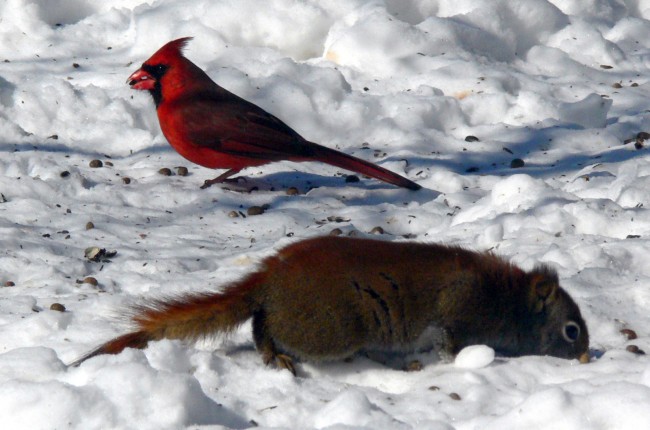 Never mind.  The local paper showed an official in a photo op yesterday, driving a spigot into a maple tree for sap!  Yes, the great miracle of spring is about to unfold once again . . . even though some of us need to be convinced at this point that we will see such a colour once more as green .