Howdy, folks!  I'm Zip the Chip.  Let me tell you, it sure is a job keeping track of things around Cedar Hollow.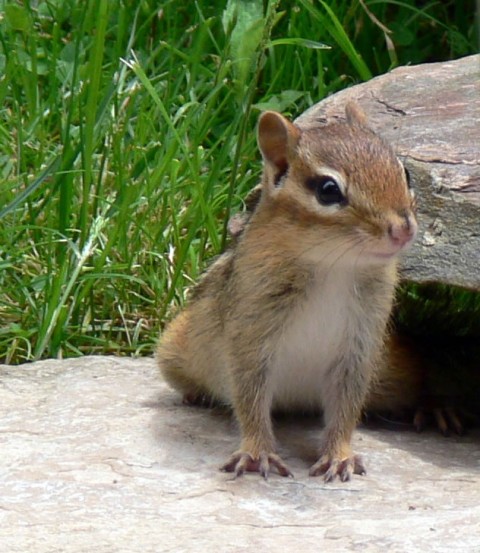 My biggest beef is that old shovel.  Mrs. McD keeps dragging it out of the shed, and the next thing you know, something's not where it used to be! I guess you heard that the bachelor buttons got moved a few days ago, and she told you all about her cornflower crystal.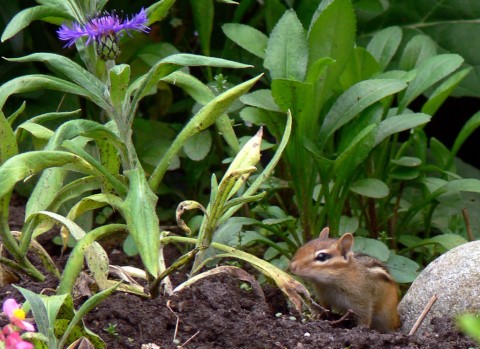 You see, I really have to map things out mighty carefully.  One never knows when the mangy old cat from across the street will come padding into Cedar Hollow.  I've got to have my escape routes all figured out in advance in case she tries to sneak up on me.  Mrs. McD won't put up with that old bird killer for a minute.  You should hear the loud psssst!! she comes out with whenever she sees it.  It's enough to scare a dinosaur off the property!  The other day, I overheard her declaring that the next water gun she gets is going to be a POWERFUL one! I'm glad she's on my side. 
Mr. McD is using the reciprocal saw to cut up the lilac branches that were draping over the side garden.  I guess they were depending on the big tamarack tree to hold them up, but you know what happened to it.  The crock by the fireplace is plum full of twigs! Mrs. McD is planning on using the twigs for kindling.  I heard her wondering what lilac wood would smell like.  Do you have any idea?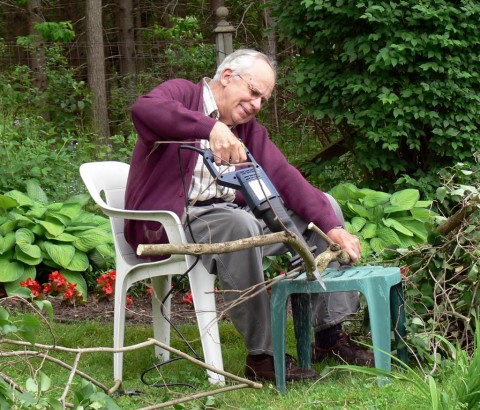 As Mrs. McD was heading up the steps with a fan rake to tidy up the mess left from harvesting the lilac branches, Lady Wren alighted on the grass.  She chose an iddy-biddy lilac twig, flew up to the Swiss Chalet, and poked it inside.  I don't think Mrs. McD raked as thoroughly as she might have after that, but that's OK.