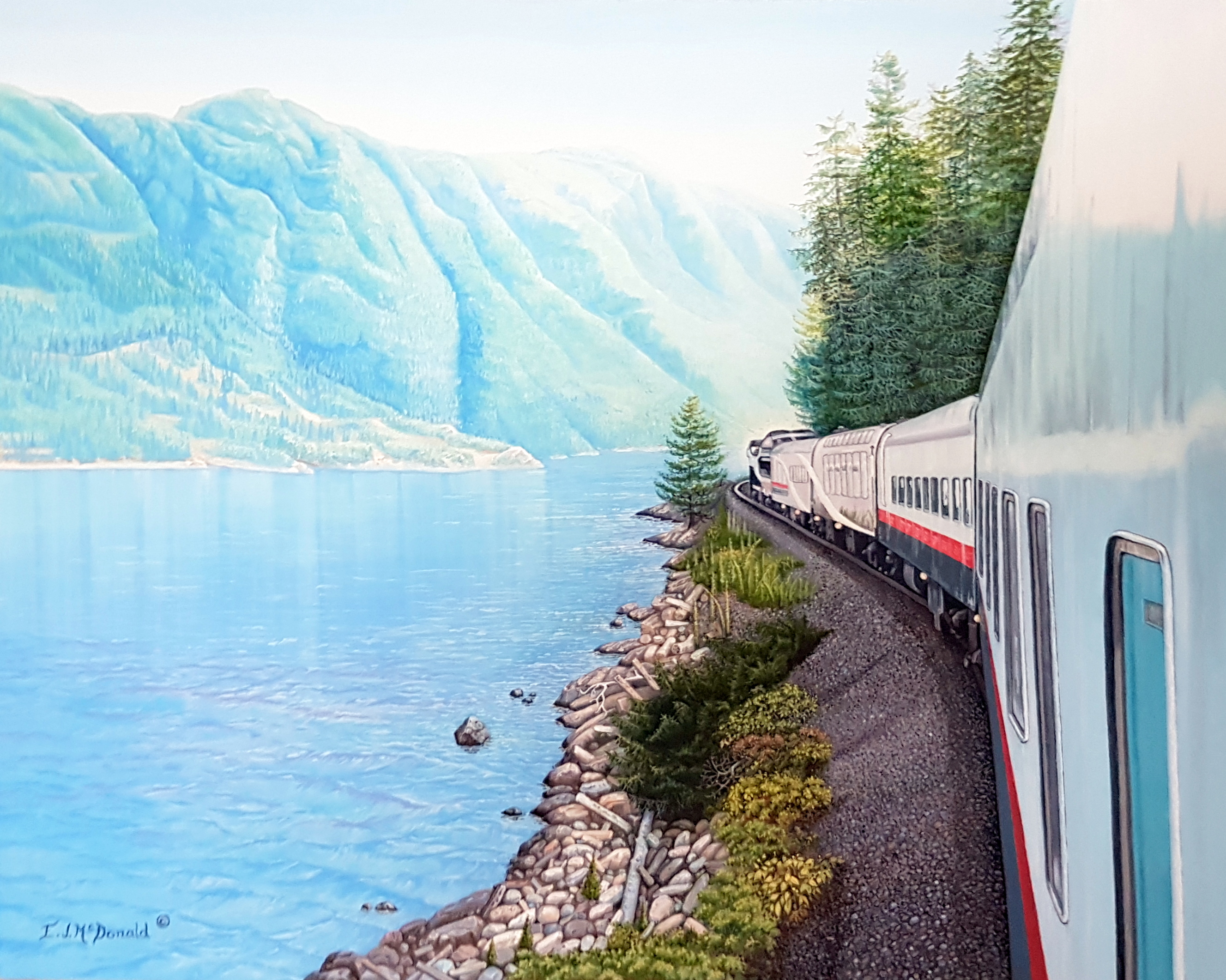 Around the Bend – Latest Release!
My husband leaned out from the small platform between coaches to photograph the Rocky Mountaineer gliding around the bend beside Shuswap Lake, British Columbia.
It was August of 2011. Our first trip out West was in celebration of our 50th wedding anniversary.
After visiting flower-bedecked Victoria on Vancouver Island and the unbelievable Butchart Gardens, we ferried back to the mainland to board the Rocky Mountaineer Train in Vancouver.
Looking it up later on, I found that the lake in this painting, Shuswap, is situated near Salmon Arm. Made up of long bodies of water, it is shaped like an addled letter H, and is one of the most popular recreational destinations in south-central BC.
Something we did not realize was that Canada has desert regions. As we journeyed through barren areas and sagebrush towards Kamloops for an overnight, we were astonished to see irrigation systems spraying out water in order to grow hay!
Aboard the Rocky Mountaineer once again, the mountain scenery we were rolling by—and sometimes tunnelling through—could only be described as SPECTACULAR!
Lake Louise was as lovely as the photos we had seen.
Banff, nestled at the foot of mountains, had a cowboy feeling. Bronze manhole covers were works of art with handsome caribou engraved realistically on them.
Believe it or not, the only large wildlife I saw while going through the mountains was a black bear painted on a road sign! After arriving home and chatting with someone at the St. Jacobs Market, he said that we could have seen all kinds of mountain sheep—the reason I wanted to go through the Rockies in the first place—if we had taken the route to Jasper. Ve git too soon oldt and too late schmart.
View painting on mcdonaldart.com here: https://m.mcdonaldart.com/product/around-a-bend/