"I hope you don't think I'm a Peeping Tom . . . but I've just got to ask you a question, if you don't mind."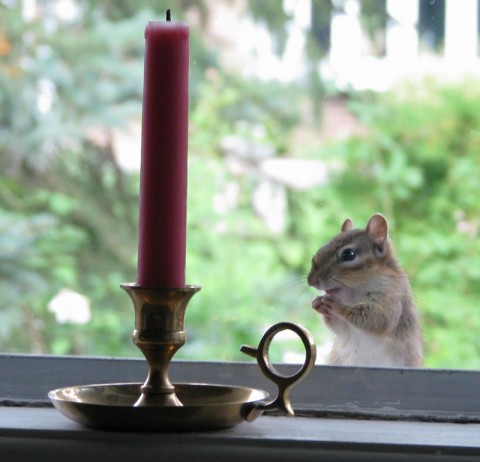 "Where are you taking the chipmunks in that wired box thing?  I see you putting them into the trunk of your Smart car.  I'd kind-a like to get a ride in that cute thing myself."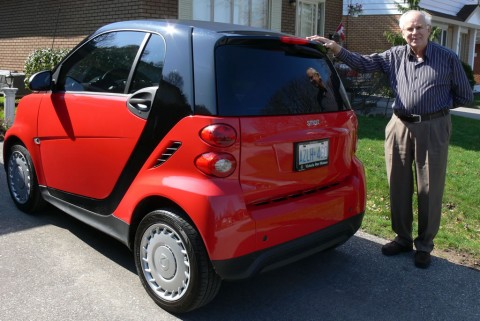 My husband just returned from chauffeuring Chipmunk No. 8 out to the country – maybe it was Peeping Tom himself!  When Lloyd opened the door of its mesh holding cell, the chipmunk scooted a short distance, then stopped, and paused . . . gathering his bearings, or maybe just stopping to say, Thanks for the ride!  He was a sanguine little creature, indeed, certainly not what you would call a Type A!
If that had been a squirrel, he would have charged out like a bolt of lightning the second Lloyd raised the door.
P.S.  Oh dear.  The Chipmunk Express is becoming too popular.  Before 5:00 p.m., Chipmunk No. 9 was demanding a ride in the Smart car, too!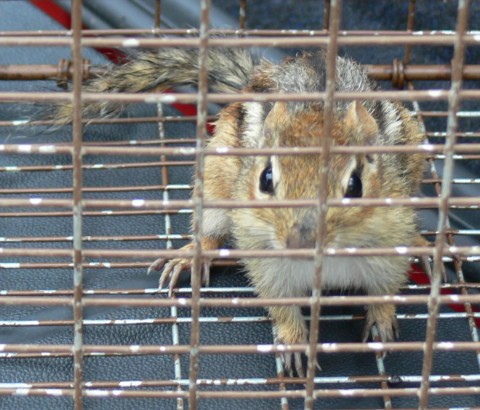 It had just started to rain, so we obliged right away.  As we headed out, Lloyd said, "I'll soon have to start charging.  I'm closing down the Chipmunk Express for the night.  Two trips in one day is enough."
Well, I'm heading back into the studio to paint some more of PEI's gently rolling hills that we fell in love with a couple years ago.