I have never tasted more delicious quiche than the church ladies served on Good Friday at the congregational breakfast. Menfolk were obviously pleased when the volunteers promised to keep making pancakes—and they did! Syrup produced in local woodlots was maple at its very best! Trays of fresh fruit or yogurt cups filled with red and blue fruits were in abundance, together with glazed slices of cinnamon rolls. Such were the gastronomical goodies served at Heidelberg Bible Fellowship—where the sound of Mennonites' clip-clopping horses is never far away.
The table centrepieces were three weeks in the making. Afterward, young Ezra Koch asked if I would like to have the one he made. How long do you think it took me to reply?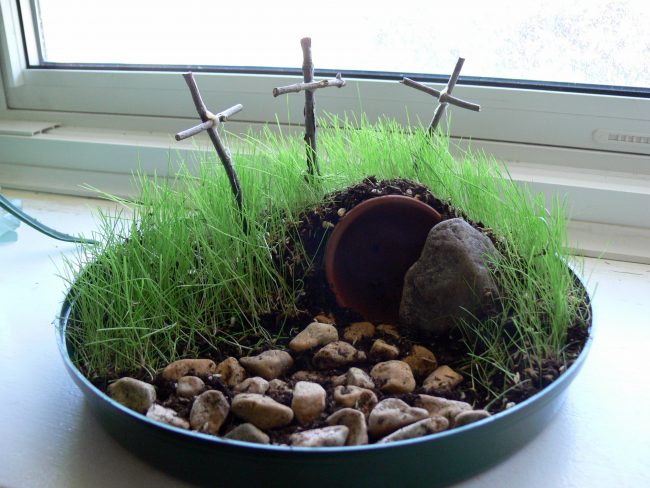 The "Case for Christ" DVD was shown, portraying the life of former atheist and editor of the Chicago Tribune, Lee Strobel. The empty tomb—portrayed by this garden centrepiece—was the key factor in dissolving his unbelief.
This Good Friday marked 25 years since our son Daniel drowned in a canoe accident. The words spoken to Martha in Bethany, Israel, are our greatest comfort:
"Jesus said unto her,
I am the resurrection, and the life:
he that believeth in Me,
though he were dead, yet shall he live:
And whosoever liveth and believeth in Me
shall never die. 
Believest thou this?"
John 11:25-26.